Services
NGF provides a range of services to support our awesome TGD community in Melbourne and around the world.
'Ready-To-Go' Training Programs
'Ready-To-Go training programs are programs that have been pre-made by Bowie Stover, our head fitness coach, and are designed to help you achieve a partiular goal. As soon as you purchase one of these programs you can start training straight away!
An award-winning online program for folks just getting started with movement, exercise or training. You don't need a gym subscription or equipment to get started, just sign up and follow along to the program and exercise demonstration videos.
Beginner Kettlebell Training Program
This training program will teach you the basics of training with kettlebells in a safe, fun and incremental way. This program is designed for folks who have have never used kettlebells before or have never trained with a specialist Russian style kettlebell trainer.
'Made-For You' Training Programs
'Made-For-You' Training Programs are designed specifically for you and your needs. They come with unlimited support and program tweaks and changes. These programs are updated frequently, based on your progress and needs.
Tailored Training Program
If you've got a particular goal you are working towards, you have certain gym equipment, or your body has certain limitations or moves differently, a tailored training program may be just what you need! You will get to work with head coach, Bowie Stover, to design a personalised training program just for you.
Semi Private Group Training Packages
These sessions allow you to work through your own program with other folks also training at the same time. They are a great way to stay motivated and accountable (which we know can be a challenge when training from home), as well as have fun and connect with other members.
Sessions are capped at 6 people which means you will always get the support you need. Your coach will be there to support you, answer questions and coach you through any movements that you need help with.
Schedule your training session on demand! No subscription, just book in a session wheveer you feel like you need support or your coach!
Buy Semi Private Group Training sessions in bulk and use whenever you feel like it! There is no time limit to this 10x pass.
We currently offer 2x weekly online group classes that have a duration of 45 minutes. These sessions are designed to be accessible for all levels and abilities and are easy to follow along to. Anyone can join these classes, even folks who aren't NGF members.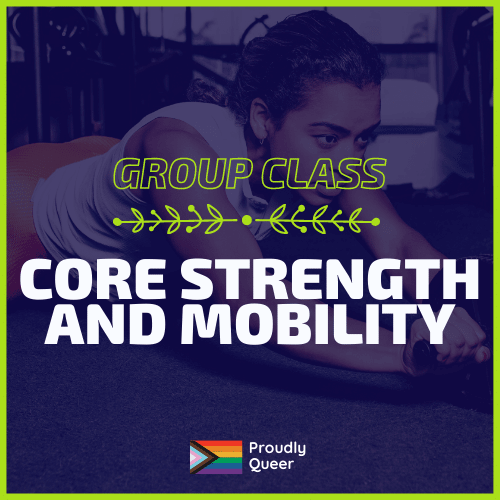 Core Strength and Mobility CLass
Start your weekend off well with this pilates-style core strength and mobility session. Feel free to jump in, go at your own pace and do what feels good for you. Walk away feeling a bit looser, a bit worked, but not smashed!